Robert Shaw Primary School has a school uniform which has been agreed by the parents, carers and Governors. We expect that all children will wear the school colours. This helps to develop a sense of pride and belonging to Robert Shaw School.
Uniform
Navy blue sweatshirt, cardigan or jumper
White or light-blue polo shirt, shirt or blouse
Grey or black trousers or skirt
Black shoes or trainers with no design/emblems
School book bags with the school emblem, can be bought from the school office.
For PE we recommend a white top, blue shorts with plimsolls, in colder weather navy jogging bottoms can be worn. Trainers may be worn for outdoor PE.
Pre-loved uniform
Free, pre-loved uniform parcels are available from The Uniform Project Nottingham. Please see the flyer in the link below or contact them directly theuniformproject@hotmail.com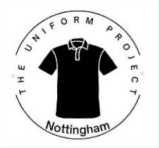 The Uniform Project Nottingham flyer
New Uniform
We have two established suppliers of uniform with differing clothing ranges and prices.
These items can be ordered with or without the school logo.
Parents can also find uniform in the school colours at most major supermarkets.
Jewellery
Jewellery is not allowed for safety reasons.  If your child has pierced ears, stud earrings may be worn, however these must be removed for PE and swimming.  Watches may be worn.
Make-Up
It is not approriate for children to wear make-up at school, and any child who does so will be asked to remove it. If they cannot do this themselves a parent will be contacted to come into school and remove it.
Valuable Items
Valuable items such as computer games and systems, radios MP3s etc should not be brought into school.  Mobile phones are not permitted, and must be handed in to the Office if brought to school.